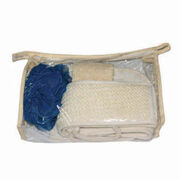 The Bath sets including a 30g bath flower, a bath glove, a bath loofah and a bath sisal in a PVC bag.
Following are the detailed information:
Bath flower: 30g
Bath glove: 21*16cm
Bath loofah: 8cm 肖62mm
Bath sisal: (34+33+34)cm
PVC bag size: 27*16*5cm
Of course, you can choose the goods you want as a sets. If you can tell us your target price, we are appreciated to do some recommodation.