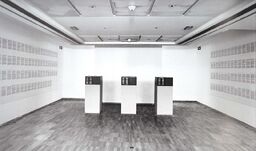 Works of art that use an archive:
Art & Language, Index 001 (1972)
Antonio Muntadas, The File Room (1994)
James Cabot Ewart, Nipples at the Met (wesite, 2012-present): Documents all the nipples at the Metropolitan Museum of Art.
Sam Hsieh, One Year Performance 1980–1981 (Time Clock Piece) (installation view at 2010 Liverpool Biennial, original performance in 1980-1)
Ai WeiWei, Names of the Student Earthquake Victims Found by the Citizens' Investigation, 2008-11 (injket print) (installation view at the Hirshhorn Museum, Washington D.C.) 
Fiona Banner, The Nam (1997)
Eleanor Antin, Library Science (1971): Antin appropriated the Library of Congress's classification system to classify "a sub-set of the world of people" (i.e. women): "Each participant in the exhibition of women artists was asked to provide me with a 'piece of information' of any form that she felt appropriate  at this time. Twenty-six participants repsonded. Each 'piece of information' (object or document) was classified for subject as a book in accordance with the classificational system of the Library of Congress...All of the 'pieces of information' were exhibited beside their 'subject catalogue cards.' - Eleanor Antin, The American Librarian (Feb 1972).