Art projects that involve chairs, benches, or stools
: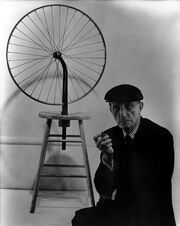 check out this blog:
http://www.designboom.com/history/stilllife.html includes:
'singer chair (for short visits)' by bruno munari, 1946
chair with drawing by artist saul steinberg, circa 1952
'kichka's breakfast' by daniel spoerri, 1960
'shirt with objects on a chair' by claes oldenburg, 1962
'wrapped chair ' by christo, 1961
'fat chair' by joseph beuys, 1964 (See John David Ebert, Art After Metaphysics 90)
'untitled' by pieter engels, 1964
richard artschwager, table and chair, 1964
'untitled' by lucas samaras, 1965
ladder and chair, by alighiero boetti, 1966
chair by allen jones, 1969
chairs and table by donald judd, a series started in 1973
'MAgriTTA chair' by by sebastian matta, 1970
neon table and chair by joe rees, 1975
'brushstroke chair' by roy lichtenstein, 1986
'untitled' by daniel spoerri, 1988.
'shit in your hat - head on a chair ' by bruce nauman, 1990
splatter chair by richard artschwager, 1992
'chair table and flower pot' by roy lichtenstein, 1992
(title unknown) by louise bourgeois (date ?)
'seat for the rich on the lap of the poor'
'table and chair' by rachel whiteread, 1994
'chair pool' by dennis oppenheim, 1996
'chair transformation number 20B' by lucas samaras, 1996
'the love difference table' by michelangelo pistoletto, 1998
'untitled' by tom friedman, 1999
formulation (stance) by tony cragg, 2000
kinetic furniture by theo kaccoufa, 2000
'soft office with office chair' by loris cecchini, 2001
'gap' by loris cecchini, 2001
'haini' by franz west, 2003.
installation by doris salcedo, 2003
folding chair by iván navarro, 2005
'untitled' by kutlug ataman, 2004
'neon tube chair' by paul tames van den berg, 2005
pencil installation by kerstin schulz, 2005
massage chair installation by yang zhenzhong, 2005
'the black hole' by michel de broin, 2006.
'his chair' by chiharu shiota, 2006.
'relativistic loop corrections to the chair function' by loris cecchini, 2007
Community content is available under
CC-BY-SA
unless otherwise noted.